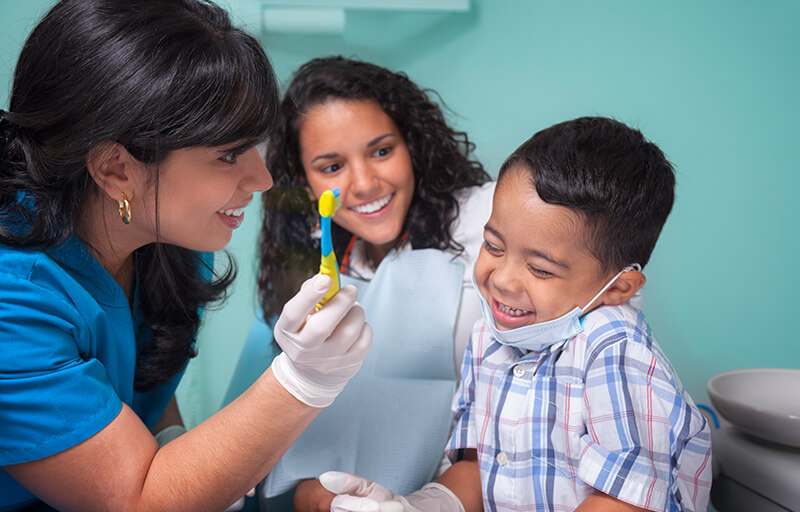 The Affordable Care Act is complicated – especially when it comes to coverage for children's dental care.
Pediatric dental coverage is one of the ten essential health benefits (EHBs) that are required to be included in all individual and small group plans. Oddly, you don't actually have to purchase it if your insurance comes from the Federal ACA Marketplace. But all non-Marketplace health plans must include pediatric dental unless you already have dental insurance that covers your kids.
Confused yet? Blame section 1302 of the ACA regulations, which states that any health plan sold on the federally-run ACA Marketplace that does not include pediatric dental coverage can still be a qualified health plan (QHP) if a stand-alone pediatric dental plan is available for purchase in the exchange.
It gets stranger: there is no "individual mandate" penalty if you don't purchase that standalone dental plan. But non-Marketplace plans – the ones available on the private insurance market - must include pediatric dental unless you already have dental insurance that covers your kids.
And just to make things more interesting, if you live in California, Connecticut or Washington State and buy a plan from the state-run Marketplace, your plan must include pediatric dental coverage.
Obamacare Pediatric Dental Insurance
So, let's say you're looking for a plan on the Marketplace that includes dental coverage for your entire family. According to the American Dental Association's analysis, on average less than half of the available health plans include dental. And the vast majority of the plans that did include embedded dental coverage, only included pediatric dental.
So, if you want to purchase your health plan on the ACA Marketplace and you want family dental coverage, you'll also need to purchase traditional dental insurance or a dental savings plan. You can also consider purchasing coverage for your children with your ACA plan, and joining a dental savings plan to reduce the costs of dental care for the adults in your family.
And remember, if you have children under age 19 and get your health coverage from the private insurance sector, your plan must include pediatric dental coverage, unless you already have it from another insurance carrier.
Pediatric dental coverage purchased on the Marketplace has to abide by some ACA regulations, including the ban on lifetime and annual benefit limits. This is very different from private policies for dental, which typically cap annual benefits at $1,000-$1,500. Dental savings plans have never had annual caps on coverage, so ACA plans are now more similar to dental savings plans.
But not all services are covered by ACA dental insurance plans. As an example, orthodontia (braces) is generally not covered unless it's "medically necessary."
Another thing to consider when deciding whether to purchase a dental insurance plan on the Marketplace is that the maximum out-of-pocket on stand-alone pediatric dental plans is $350 for a single child, and $700 per family if more than one child is covered on the plan. But – and this is important - if the dental coverage plan is embedded into the health plan you choose, dental expenses may only be covered after the deductible is met. The average deductible is $5,731 for individuals and $11,601 for families.
Officially, preventative dental care is covered at 100% - that means for free- on Obamacare pediatric dental plans. But this coverage does not necessarily reflect what many parents – and dentists - consider to be minimum preventive care. Fluoride treatment is covered if there is no fluoride in your water supply. Oral health risk assessments – a basic review of how likely your child is to have dental issues at some point in their lives - are also covered. Cleanings, x-rays and other basics are not required to be covered if dental coverage is embedded in your health plan.
Stand-alone pediatric dental plans are more likely to have more comprehensive coverage. But premium subsidies are not available to help cover the cost of separate stand-alone dental coverage.
State-based exchanges that require dental may also provide better coverage. In California's Market, pediatric coverage is embedded in all family plans and preventive dental care (x-rays, exams, cleanings, and sealants) are covered 100%, even if you have not met the plan's deductible.
ObamaCare For Kids
Despite the passage of the ACA, purchasing dental insurance and/or paying out of pocket for care isn't easy for many families.

Lack of access to affordable dental care is apparent in our nation's health statistics. Tooth decay remains one of the most common chronic conditions among children, with about 23% of children ages 2 to 11 years having at least one primary tooth with untreated decay, and 20% of adolescents ages 12 to 19 years with at least one permanent tooth with untreated decay, according to the Centers for Disease Control and Prevention (CDC).

Dental savings plans offer an affordable alternative to dental insurance. With a dental savings plan, you gain access to a network of dentists who have agreed to offer reduced rates to plan members – typically 10%-60% of the cost of virtually all dental care and treatments.

Dental discount plans offer coverage for services that traditional dental insurance often does not, such as braces. There are no exclusions for preexisting conditions, no annual spending limit, no deductible to meet, and no claims to file. You simply pay the discounted rate directly to your dentist.

Find out more about family dental savings plans at dentalplans.com