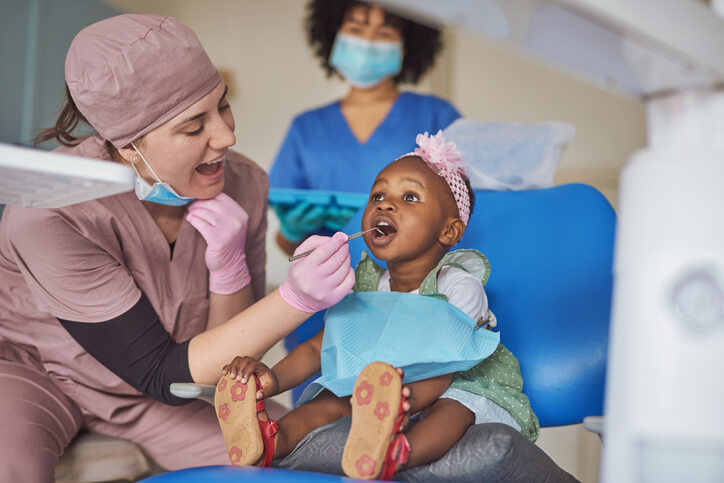 As a parent, you know that kids can be unpredictable, but one thing is certain — they grow up fast. Before you know it, those first few baby teeth will begin showing and your little one will have an adorable toothy grin. Soon you'll be wondering when you should take your child to the dentist for the first time to protect their new smile. Keep reading to find out the answer, as well as how to prepare for the first dental visit, what to expect, and how to continue promoting proper dental care for your child at home.
Preparing for the First Dental Visit
So when do babies go to the dentist? You should take them when their baby teeth begin to grow in, or by their first birthday. While it may seem early, your child becomes susceptible to tooth decay, cavities, and other dental problems as soon as their teeth start growing. The first dental visit helps ensure that your baby's teeth are erupting and developing properly.
Avoid scheduling your dental appointment during your child's usual naptime to ensure a great visit. Instead, pick a time when your child's awake and well-rested. Additionally, make sure to give your child a light meal before the appointment, so they're not hungry during the exam.
It helps to prepare a handful of questions for the dentist. Here are some common questions to help get your list going:
Do I need to brush my baby's teeth?
What toothpaste should my child be using and how much?
Why do baby teeth matter?
How often should I schedule dental appointments for my child?
Are X-rays safe for my child?
Need help finding the right pediatric dentist? DentalPlans.com makes it easy to get quality care for your child at a more affordable price. Look up dentists in your area today.
What to Expect at the Dentist
The first dental visit is all about getting your child acclimated to the dentist's office and making sure they're as comfortable as possible. The visit will also allow you to meet the staff and become more educated about caring for your child's teeth.
You can expect the appointment to last 30-45 minutes. Typically, you and your child will first meet with a dental hygienist. During this time, the hygienist may:
Examine your child's teeth and remove any plaque, tartar, or stains.
Demonstrate how to properly clean your baby's teeth at home.
Recommend dental products.
Discuss proper use of fluoride.
Talk about the connection between diet and oral health.
After the hygienist leaves, the dentist will come into the room. They may:
Closely examine your child's mouth to look for signs of tooth decay.
Give you information about teething, pacifier habits, baby bottle tooth decay, and finger-sucking habits.
Share any concerns about your child's oral development.
Answer the questions you prepared before the appointment.
If your child becomes antsy or cries a bit during the appointment, don't worry. This is a new experience for your child, and it's completely normal for them to feel nervous or overwhelmed. The dental staff understands and will do their best to work with you to ensure your child is calm and content.
Continuing to Promote Strong Dental Health at Home and Beyond
Proper oral care should be part of your child's daily routine. Check out some of these tips you can use to help protect your baby's teeth at home:
Brush your child's teeth with a small, soft-bristled toothbrush. Use a tiny amount of toothpaste, roughly the size of a grain.
Avoid giving your child a bottle of milk, juice, or any sweetened drink before naps or bedtime. This helps prevent baby bottle tooth decay.
Limit your child's bottle time to 5-6 minutes.
Keep hard or sticky candies to a minimum. Give your child fruit to help curb their sweet tooth.
Children, just like adults, should see the dentist regularly. Communicating with the dentist can provide more guidance on what exactly regularly means for your child in regard to their dental care needs.
If you have any questions about obtaining dental care for your child and what options you might have, we can help. Contact us to learn more about the dental savings plans — the affordable alternative to dental insurance — that we offer.